I had a great conversation with Christy Pettis today, and amidst other recent conversations about how MTBoS is used by folks and why people do and do not get involved, it has me thinking.
I love MTBoS. It makes me a better teacher. But I do think we (including me) have some work to do around not appearing so perfect. We share a ton of good stuff, but don't often share our fears nor failures in the classroom. (Although, perhaps I just need to look harder, as this was just shared with me on twitter.)
So I'm mostly just throwing my hat in the ring here. Committing to sharing my #lessonfails and fears about not being good enough.
What generally happens on the MTBoS (pronounced mitt-boss, don't let people tell you otherwise), is that we share our best stuff and our most confident selves.  We share excellent lessons that went really well, and maybe even gloss over some of the parts of the lessons that didn't go so well. I do that. I'm going to try to stop. (I have now gone back and fixed this in my Hidden Figures Discussion post.) Because it puts WAY TOO MUCH PRESSURE on us to be excellent 100% of the time. Even though we say, over and over and over again, that we're all imperfect and we all make mistakes. If we don't name and share those mistakes in detail, we're making the community too intimidating to get involved in.
I've been involved in MTBoS for more than a year now, and I feel pretty comfortable here. A lot of that is because I know people. I have gotten affirmation that I'm a worthwhile member. I don't (often) worry how I'm perceived because there's a body of evidence about me out there. I have a blog, I have lots of tweets, I have an established relationship with many other MTBoSers that gives me a bit of a cushion to explore ideas in safety. I have a reasonable faith that should I say something monumentally stupid, people will give me the benefit of the doubt.
I also edit posts, tweets, likes and other stuff obsessively to make sure I don't sound like a monumental idiot. I probably still do. This is because I am not immune from self-doubt amongst the MTBoS.
What I'm about to share is a pretty embarrassing story. Part of me wants to abandon this post because it reveals that I can be rather hysterical when I don't have to be, but given the spirit of the post and that I promised others I would post about some fails and ugly moment, I suppose I had best get on with it. Allow me to be clear that this was a single episode, and that I felt very ridiculous the following day, but in the moment it was very real to me and potent in its distressing-ness. Maybe some of you have had similar episodes and this will help you know you're not alone. Maybe the rest of you are far more well-adjusted than I and this will help you feel better because you're not as hysterical as me. I dunno, but I'm sharing.
You see, I recently found myself crying inconsolably at my dining room table, having discovered I am an absolutely worthless teacher. Totally incompetent. Probably ruining my students lives. What brought me to this, you ask? Self-doubt about my ability to summarize lessons, and a belief that I am the only teacher in the world who can't do this.
You see, I was attending the phenomenal Tracy Zager's Global Math Department on #lessonclose. Allow me to admit it:
I. STINK. AT. SUMMARIZING. LESSONS. I get students thinking and then ask them to… write it down? Tell a neighbor? Share what they did? It always feels awkward and forced and I am almost never satisfied. It has never crossed my mind after a lesson, "Wow, that all came together really well! We totally wrapped that up!" Like… never. At best, sometimes I can think to myself, "Hey! Kids are really annoyed they don't know the answer yet! I bet they keep thinking about it!"
So when I saw Tracy was hosting a webinar on lesson closing, I was over the moon. I was so excited that Tracy was sharing ideas. I was so excited that it was TRACY. You see, Tracy has taught me to be vulnerable. I feel totally safe sharing my incompetence with her. I was so pumped for this webinar.
Being the excessively open person that I am, I tried to respond in the chat box as honestly as I could. Right off the bat, Tracy shared two ideas that I read and thought, "huh, I could try those," but then Tracy and everyone else started in on how obviously ridiculous they were. This was fine by me. Totally affirmed to me that I was in the right place. I needed this talk because I stink at closing lessons. I know this. I said so in the chat box:
Boom. Was vulnerable. Admitted it in front of colleagues. +1 to me!
Tracy's talk continued and she shared such excellent ideas. I am super grateful to her and everyone else attending. I am going to be a better teacher for learning from them and that's why MTBoS is so awesome!
As the talk continued, even though Tracy said MANY TIMES, something to the effect of "I'm not perfect at this, we're all learning together", and everyone else in the chat said the same stuff, I still ended up crying over my laptop because I was so hysterically bad at my job. Let me be very clear here, before I continue, that this crying fit was not Tracy nor anyone else's fault. I got nothing but supportive talk from her and everyone else there.
We were talking about a teacher Tracy had featured who was doing great work getting their students to take risks in class, which I would love to have more of in my classroom. So I jumped in:
See that?! Everyone was so flipping helpful! Thank you guys! Seriously, I mean that.
The result of all this helpful talk was for me to spiral down into a pit of "oh my gosh I am so terrible at my job, all of these people know what they're doing and I am still so flipping bad at this!" No one else was as bad as me.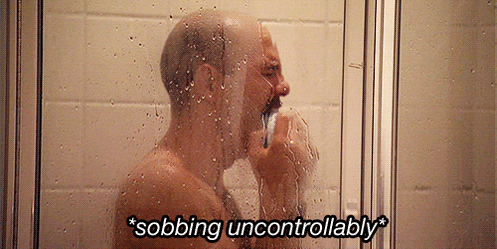 (I should be clear here that when I woke up the next morning I felt completely foolish and realized that I really shouldn't have gotten so upset. There is hope. I do stink at this, but I can get better and I just had a bunch of people share a ton of ideas that will help me with that.)
To be super clear, this crying fit happened because of me. No one else. And I got out of it by going to sleep (this fixes many things) and realizing I have the agency to change my crappy ability to close lessons.
When I think about MTBoS, I think about the excellent stuff I find there. The competent, confident people. Which is totally the point and I get that. But it would be nice if we had a bit more of, "I've been there, too."
Based on the massive number of posts people are sharing with me on twitter about lessons fails right now, maybe I'm just plain wrong that we need more of this and I haven't been using MTBoS correctly. Maybe you all are sharing these self-doubts and lesson fails and I just haven't sought them out enough. I do think, however, that I can be part of the solution to my complaint and chime in more often to let people know about my flops and failures, especially when they're sharing their own.
If nothing else, perhaps those reading this post will know that at some point, another teacher had an hysterical crying fit over something that they probably shouldn't have, and maybe that will make them feel better about something they're not feeling that great about.
After all the responses to the tweet I sent out earlier I'm significantly revising my impression that we don't share fails on MTBoS, and part of me doesn't want to post this post at all, but I told others that I would, so I'm going to, in the spirit of exposing my weaknesses, even if those are just about being wrong about how much people share failures.
Madison, Annie, and Ilona are fabulous people who are sharing failures among many others, and I SO appreciate their willingness to expose their imperfections. Here's to more of that. Teaching is hard and we're all in this boat together.